I am beyond excited to share with you my latest creation – The Everything Oil by Glow with Mei.
As someone who is passionate about natural skin care, I've spent countless hours researching and experimenting with different oils and ingredients to create the perfect facial treatment oil that can do it all: cleanse, massage, moisturize, soothe, and rejuvenate the skin. After months of testing and refining, I'm thrilled to say that I've developed something that I'm truly proud of.
The Story Behind The Everything Oil
I have a little secret to share with you, The Everything Oil was created out of a selfish desire to have a signature facial treatment oil that I could trust and that would also provide a sensory experience to use in my facial protocols. After not being able to find what I was looking for, I worked with an aromatherapist to formulate my very own blend. It was originally meant to be used solely for face massage, however I quickly realized the uses are endless! I sprinkle it into each of my custom facial treatments where it counts the most. Hence the name, "The Everything Oil".
Carefully Selected Carrier Oils
I was careful to stay away from including heavy oils that clog pores or nut oils to allow the use on everyone! The carrier oils in The Everything Oil were carefully selected to nourish and improve a multitude of skin conditions. They help to improve skin tone, soften skin, reduce signs of aging such as helping to smooth wrinkles, reduce post-inflammatory pigmentation, while keeping the skin clear from breakouts. Each oil has unique properties that work together to provide a nourishing and balancing effect on the skin:
Apricot Kernel Oil is antiseptic and antibacterial, which makes it ideal for healing blemishes and protecting against environmental damage, fine lines, and wrinkles.
Milk Thistle Seed Oil is a unique addition to the blend, offering many skin benefits for all ages and skin types. It's particularly effective in treating acne and pigmentation, thanks to its antioxidant and anti-inflammatory properties. Milk thistle seed oil helps fight the damaging effects of free radicals, which can cause premature skin aging like pigmentation and inflammation. It's also great for dry, chapped, and cracked skin, balances the skin's moisture, and leaves it soft and smooth.
Cacay Seed Oil is an excellent source of Vitamin A and helps encourage skin cell production, keeping your skin firm and healthy. It contains over 68% linoleic acid, which improves the skin's barrier function. Linoleic-rich oils like Cacay oil are non-comedogenic, meaning that they won't cause breakouts, while easily absorbing into the skin.
MCT Oil is one of my favourite carrier oils due to its extremely light texture that absorbs without any residue. It is derived from coconut, which provides antibacterial and antifungal qualities.
The Power of Essential Oils in The Everything Oil
The essential oils in The Everything Oil were chosen for their ability to work harmoniously with the carrier oils to build the skin's resilience. Each oil provides unique benefits such as calming irritation, killing acne-causing bacteria, and improving skin elasticity:
Blue Tansy calms irritation and kills acne-causing bacteria.
May Chang and Lavender are deeply calming to the nervous system and also great to calm skin inflammation.
Frankincense strengthens the skin and improves its tone, elasticity, and defense mechanisms against bacteria and blemishes. It also reduces the appearance of scars.
Tonka Bean (Benzion resin) increases skin resilience, regenerates and nourishes, maintains the hydro-lipid balance of the skin, improves its elasticity, and inhibits the process of premature aging of the skin.
How to Use The Everything Oil
How do you get the most out of The Everything Oil? It depends on what you're using it for!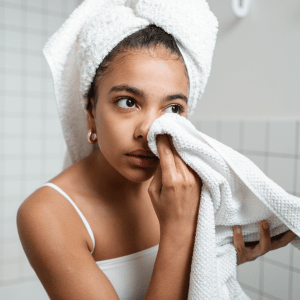 For deep cleansing: Apply 4-6 drops directly on top of makeup and sunscreen, massaging the oil into the skin and concentrating on areas of congestion. Use a warm face cloth or cotton pad to remove the oil, sunscreen, and makeup. Rinse the face cloth and wipe again up to three times.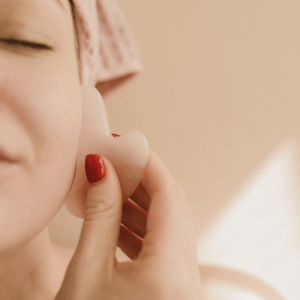 For massage, gua sha, jade rolling, or cupping: Apply 2-4 drops after cleansing, toning, serum, and cream. Add more oil for slip if needed.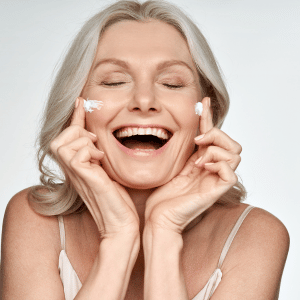 For added moisture: Mix 1-2 drops into your face cream or foundation.
A Versatile, All-Natural Facial Treatment Oil
This oil feels absolutely amazing on the skin. I've been using The Everything Oil for a few weeks now, and I can honestly say that my skin has never looked or felt better. I love how it gives me that dewy, radiant glow, and it's helped to even out my skin tone and reduce the appearance of fine lines.
Thank you to all my loyal clients who have encouraged me to retail The Everything Oil! It's a beautiful facial oil that I'm proud to be able to share with you.
To purchase The Everything Oil, you can pick up a bottle for $55.00 CAD at our clinic located in Leslieville, Toronto.
Yours truly,
Mei-Lana xo